Hello ScoFans!
The inspiration for today's post came from a conversation between my mother, my brother and myself.
We were talking about a girl we knew who had become engaged. This wasn't the first time for her, she'd been engaged about a year earlier (in fact, she got engaged on the day she was supposed to marry the first guy), and mum was finding the whole thing a bit hard to follow and came to us for an opinion.
Because if you want a clear view on romantic goings on, you come to me.
This was the conversation.
Mum: "I wonder what he's thinking getting engaged to her"
Me: "He's probably thinking it's a good idea and he wants to spend his life before"
Mum: "But she was only just engaged and decided she didn't like it. What would you do if you were in his position?"
Me: "I'd think engaging her seems like a good way to get rid of her. If anyone had been around me for that long, I'd be looking for an escape route and obviously the engagement thing has worked before"
Mum: "Do you think he just thinks it won't happen to him? Because he's better?"
Me: "I'd be thinking *I hope she leaves soon*. And then she'd be all *This is over, I can't do this* and I'd be all *Righto then. Bye. Have a good one*"
Brother: *Laughing his ass off* "I don't even know how you'd let it get to that point"
Me: "I don't know. Maybe I got a multiplayer Xbox game and had nobody to play against"
Brother: *More laughing* "I think that'd be the only way it'd happen"
But I've been thinking, maybe there are more ways than just that one that I could get engaged. I mean I already was.. once... technically.. remember?
So here's a list of some of the things it would take for it to happen to me..
- helping a friend out,
like last time
- Tina Fey getting divorced
- it could lead to an early retirement.
- I decided it was worth giving up my freedom to have someone to split the cleaning with
- I was being held against my will
- There were free comedy shows involved (yes, I can be bought.. apparently)
- Visual exhibit: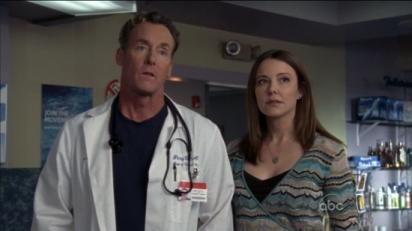 Yep, those two have the perfect relationship.
- I thought it would make good blog fodder
- If I ever met Liz Lemon
Hmm.. she looks a lot like Tina Fey. I never noticed until I put them side by side like this. They even dress alike. And they appear to be standing in the same wedding dress shop. Imagine that.
- When having my freedom stops being fun
I guess the other thing that bought this post about was a friend I haven't talked to in a few years added me on Facebook and of course asked the "Still single?" question, and I was like "Even if I was interested in meeting someone, I've spent this weekend in my pyjamas playing video games and watching 30 Rock (
like I needed to tell you guys that
) - where would I meet this person?"
Yep, life is awesome.